With over 107 million YouTube followers, PewDiePie is unquestionably the king of the video streaming network. PewDiePie, whose real name is Felix Arvid Ulf Kjellberg, has been on YouTube for a decade, steadily expanding from gaming videos to vlogs, music videos, and comedy pieces. So, what kind of equipment does PewDiePie use to create his videos?
As a result of PewDiePie's phenomenal success, many aspiring YouTubers have turned to the site to create original material. Apart from admiring his vlogging approach, fans have developed a deep interest in his vlogging setup and the equipment he employs to produce such famous videos.
Because of his clout, a slew of gamers, streamers, and vloggers have launched their own YouTube accounts in the hopes of producing inspirational films and content like him. If you adore PewDiePie and aspire to be as successful as him as a social media influencer one day, or simply enjoy fantastic technology, check out what PewDiePie utilizes below!
Jon Olsson Vlogging Equipments
What Camera Does PewDiePie Use?
1. CANON XA11
The CANON XA11, PewDiePie's preferred camera because to its extensive feature set, is a professional camcorder with HD 1080p video recording capabilities. The flip screen is suitable for today's video makers, and its 20X optical zoom and HD CMOS Pro Image Sensor provide a wealth of features. The flip screen also allows makers to record while simultaneously appearing on the screen.
However, because it does not record videos in 4K, the camera's price (over $1000) may seem a little excessive. However, it is still a monster of a device. Despite the fact that 4K videos are becoming increasingly popular on YouTube, most people still choose to watch their videos at 720p or 1080p because it is faster to load on their smaller devices.
Pewds has a few more cameras in addition to his main camcorder. He shoots cinematic-quality videos with the Sony A7SII and more on-the-go footage with the Canon Powershot G7X.
What Computer Does PewDiePie Use?
1. Custom Gaming PC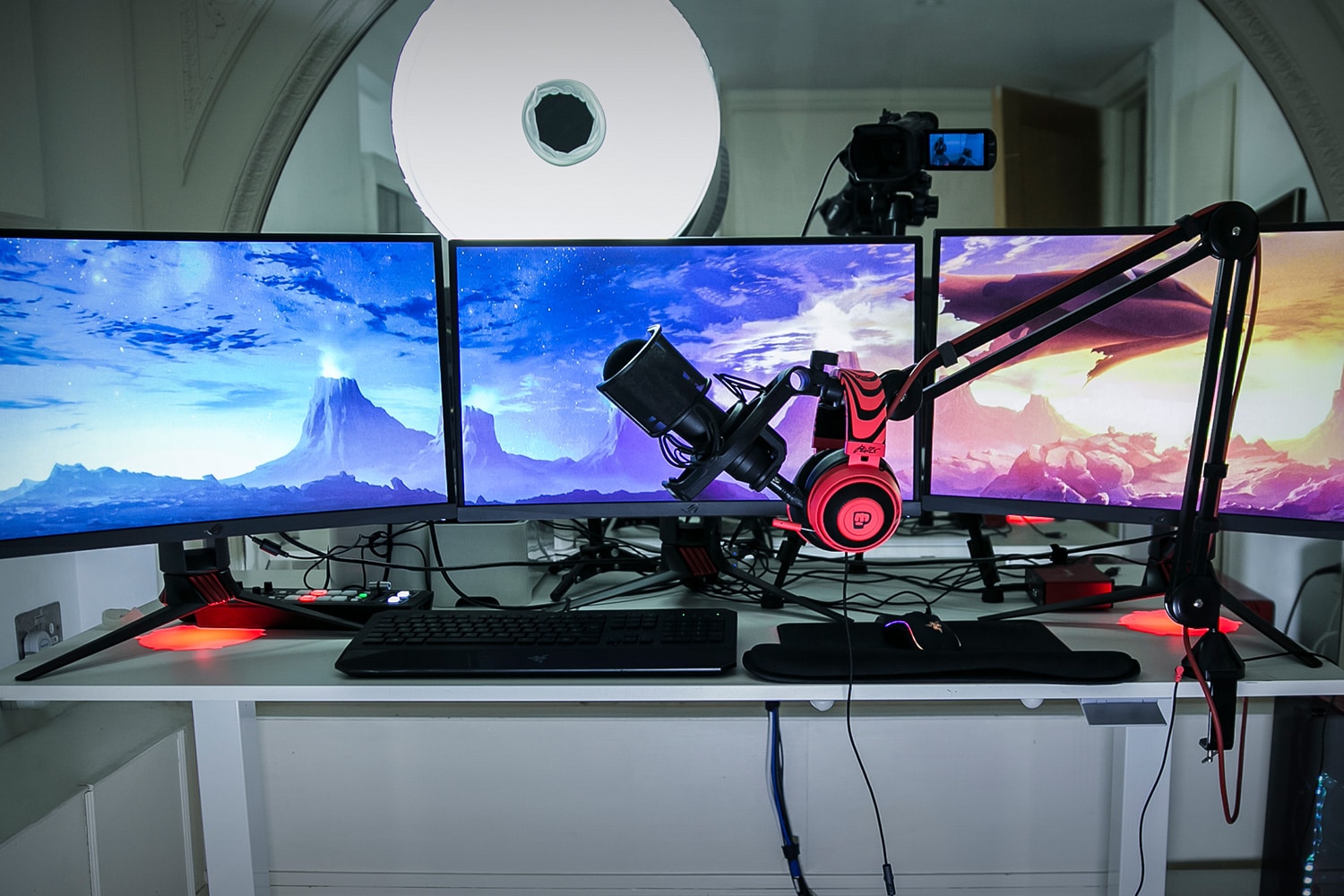 Felix is idolized by gamers, and when they inquire about PewDiePie's equipment, they usually want to know more about his computer specifications.
PewDiePie's custom gaming PC currently boasts some impressive capabilities. The following are some of the highlights:
1. Intel Core I9-7980XE processor (18 cores, each running at a speed of 3–4.40 GHz)
2. Corsair Vengeance 32GB DDR4 RAM (Corsair Vengeance 32GB DDR4 RAM) (3200 MHz speed, helps PewDiePie multi-task)
3. Graphics card NVIDIA GeForce RTX 2080 TI (11 GB VRAM and support for Microsoft DirectX 12)
4. Western Digital 2 TB HDD with Samsung EVO 1TB SSD (520 MB/s writing speed and 550 MB/s reading speed) (64 GB cache and 7200 RPM)
5. Chassis NZXT H500I (aesthetic design, RGB LEDs built-in, CPU fan, water-cooling technology ready)
6. Gaming monitor ASUS ROG SWIFT PG348Q (curved design, UHD 4K display, 1440p, G-sync technology-enabled IPS panel, 100Hz refresh rate)
PewDie's Corsair Vengeance M95 gaming mouse and Corsair Strafe gaming keyboard are the input devices that allow him to bend his PC to his will. As you can see, nearly every spec on this gaming PC is maxed out, and it features the finest or close to the best of everything currently available on the market.
PewDiePie has everything he needs to make the greatest gaming videos possible in the highest video quality, which is why he doesn't appear to skimp on anything when it comes to his setup.
Best Mirrorless Camera With Flip Screen
Does PewDiePie Wear Headphones?
1. Sennheiser RS 175 High-Fidelity
The Sennheiser RS 175 HF headphones enable wireless connectivity and noise cancellation for maximum concentration and focus when gaming. When PewDiePie is fully engrossed in his favorite games, he may use the built-in mic to provide his unorthodox gaming commentary.
The Sennheiser RS 175 HF headphones are a terrific investment, even if they are a bit big and pricey for beginner YouTubers. PewDiePie was previously wearing a pair of Corsair H2100 headphones, which were significantly less expensive than these Sennheiser headphones. In his YouTube career, he has gone through a lot of headphones. Here are some of the most remarkable headphones he's used in the past.
Casey Neistat Camera Gear (2021-2022)
How Does PewDiePie Use His Microphone?
1. C414 AKG Pro Audio
The AKG Pro Audio C414 is PewDiePie's microphone of choice, and while it isn't the most costly, it has served him well thus far in his YouTube career. It's one of PewDiePie's most critical pieces of equipment.
In the past, the YouTuber has encouraged new and aspiring vloggers to avoid spending too much money on high-priced mics. The condenser microphone has nine polar patterns, allowing him to record his commentaries in a variety of settings without sacrificing audio quality.
Audio Input/Output:
The Roland Rubix 22 USB Audio Interface is the first in a series of USB audio interfaces from Roland.
PewDiePie can use this little audio interface to record his commentary and conduct the audio mixes for his videos, plus it's quite portable.
The interface's mobile-ready functionality allows PewDiePie to record in high-quality even when he's not at his home studio. The interface has the standard functionality for its price tag, including audio recording capabilities up to 24-bit/192kHz and extensive support for MIDI devices.
The interface is also compatible with iOS and Windows devices. Despite the fact that it isn't the most costly audio interface on the market, it suffices for PewDiePie.
Gaming Desk:
PewDiePie got his start on YouTube as a gamer and Livestream. He's extended his content since then, but he's still a gamer at heart. It is for this reason that he requires a stable gaming workstation. PewDiePie's gaming and streaming equipment is listed below.
1. Humanscale FNBM63
PewDiePie uses the Humanscale FNBM63 to maintain his computer setup. While the desk does not appear to be particularly noisy, it does provide a lot of versatility, allowing users to adjust between standing and sitting positions. The counterweight mechanism is a welcome departure from standard desks, and the desk's basic style will appeal to aspiring YouTubers.
Chair:
1. Echo Premium Gaming Chair from CLUTCH CHAIRS
This gaming chair's leather-style vinyl design and overall appearance make it stand out. This chair, however, isn't just about appearances; it also has a lot of substance.
The lengthy hours he spends creating material may take a toll on his body, and the armrests in this chair provide the support PewDiePie's wrists and shoulders require. The Lumbar standard support pillow and wide seating never make this chair feel too small or confining, which is great for PewDiePie's demand for freedom when working on his films.
Video Production Software
We've covered the hardware aspect of PewDiePie's setup, but what does he use to edit his videos?
We've covered the hardware aspect of PewDiePie's setup, but what does he use to edit his videos? Creating high-quality clips is simply a small part of the overall process. You'll still need to sync the audio, take out parts of movies, add effects, and make the end result in an immersive experience for your audience after you have the footage.
To keep making fascinating videos, the YouTuber employs a variety of software:
1. Audacity: PewDiePie uses this free audio recording program to get the audio side of things in order. Audacity doesn't have as many features as a full-fledged DAW like Ableton, but it's more than plenty for PewDiePie.
2. Adobe Photoshop CC: If you've ever watched a PewDiePie video, you've probably seen a lot of modified images. To alter photographs for all of the memes he likes to share in his videos, the YouTuber swears by Adobe Photoshop CC.
3. Adobe Premiere Pro CC: PewDiePie's favorite video editing program is Adobe Premiere Pro CC, which is prized by video editors and producers all over the world.
4. OBS: OBS is a piece of software that allows PewDiePie to hold live sessions on a variety of platforms, including YouTube.
PewDiePie is one of the most well-known online personalities. You can bet that all of his equipment must be reliable in order for him to produce high-quality films with ease.
Final Words
PewDiePie is one of YouTube's most popular and well-paid content creators. Much of his popularity may be credited to his substance, as well as his outstanding gear and sense of humor.
With his track record, you can trust that all of his equipment is reliable and that your videos will be just as good as his. We discussed what PewDiePie employs for his high-quality gaming and content videos in this article.