Picking the best vlogging lenses is a difficult undertaking. It's arguably more difficult and significant than picking the greatest vlogging camera. The kit lens that came with your camera may do the job, but if you want to give your vlogs a professional look, you'll need to go beyond the fundamentals and invest in a lens designed specifically for video.
We've focused on APS-C and Micro Four Thirds cameras for this guide because full-frame cameras are more suited to professional tripod-based filming. We haven't received any lens recommendations for the Nikon Z 50 because it's still in its infancy and lacks a lens range — the 16-50mm kit lens, however, is a terrific way to get started vlogging.
In several essential areas, a good vlogging lens should outperform a kit lens. While a lens may not meet all of these requirements, this is a good overview of the kind of considerations you should make while looking for your vlogging lens.
What kinds of lenses are best for vlogging?
A wider focal range: Vlogging might imply unexpected encounters as well as the necessity to film a variety of subjects, including the close and the far, the large and the little, the moving and the immobile. You can cover all of these scenarios with a single lens that has a wide focal range.
A large maximum aperture has two advantages: it lets more light into the sensor, which improves the low-light film, and it allows you to create a shallow depth of field, which makes the main subject stand out against an artfully blurred backdrop. This is especially good when filming things for the camera or doing interviews.
Fast, silent autofocus: You won't want to be manually focusing all of the time when vlogging, so you'll need a lens with a powerful autofocus system to keep up. However, you don't want a whirling autofocus system to ruin the sound of your vlogs, so look for a lens with an STM (stepping motor) autofocus system or something similar.
Size and weight: If you're filming handheld or with a gimbal, you don't want to be dragging around anything too heavy.
Optical stabilization: This can help give your footage smooth even in challenging low-light situations.
If you can obtain it, Power Zoom is another excellent feature that makes zooming smooth and polished without the jerkiness that comes with doing it manually.
As you can see, there is a lot to consider! We took all of this into account while compiling our list of the finest lenses for vlogging right now. We looked for lenses that fit a range of budgets and mounts, so whatever your vlogging setup is, you should be able to find the correct lens.
Camera Lenses Types
While the visual aspect of a video isn't the only thing you'll have to pay attention to while shooting your YouTube video, it is unquestionably one of the most crucial aspects of the video production process.
The lens you use will have a significant impact on the video's looks. As a result, you must know which lens will deliver the greatest results when shooting various types of scenes. Here are some of the most frequent lens types you'll come across.
1. Standard lenses
Because these lenses are included in almost all camera packages, chances are you already own a standard, mid-range lens if you own a DSLR camera. Although zoom lenses with focal lengths ranging from 35mm to 75mm are also considered standard, these lenses typically have a fixed 50mm focal length.
Because they are versatile enough to cover a wide range of scenes, you can use them to shoot medium shots, single or multiple figure photos, and in certain cases establishing shots. Standard lenses frequently feature big apertures, which makes them quite useful if you frequently capture movies in difficult lighting settings.
2. Macro lenses
Macro lenses are ideal for capturing details, product pictures, and any other subject that may be captured from a close distance. These lenses' excellent contrast and sharpness let you generate outstanding close-ups of all hosts, guests, and actors in your YouTube videos.
Furthermore, if you're demonstrating a new product to your audience, you may use the macro lens to create some interesting images that will draw in additional people. Macro photography and video can also be done with zoom lenses, though prime macro lenses offer better results.
3. Long-telephoto lenses
Because telephoto lenses let you capture scenes that are many miles distant from you, the subjects of your movies don't necessarily have to be in your immediate surroundings. Telephoto lenses are widely used by wildlife and sports videographers because they have no other way of getting close to their subjects.
Telephoto lenses with a focal length of 70-300mm, on the other hand, can be utilized to create spectacular portraits or close-up images. The major disadvantage of telephoto lenses is their weight, like lenses with longer focal lengths can weigh up to 10 pounds, making them inconvenient to carry around all the time.
Best Waterproof Camera in 2022
4. The use of wide-angle lenses
A wide-angle lens makes recording recordings of huge open regions, spectacular panoramas, or gorgeous city views much easier. The lens's short focal length allows it to have a wider field of view than standard or telephoto lenses, allowing it to cover more ground.
Wide-angle lenses have smaller apertures than lenses with longer focal lengths, resulting in shallow depth of field in photographs. Because ultra-wide lenses, such as fisheye, distort the view, videos shot with these lenses generally lack reality.
5. Specialist lenses
YouTubers working on difficult projects can use a specialized lens to help them solve their problems. Tilt-shift lenses allow you to control the viewpoint, while soft-focus lenses can help you snap better pictures. Even experienced videographers only use special lenses when they have no other means to film a situation, so it's difficult to conceive a circumstance in which you'll require one if you're just getting started.
Best Lenses For Vlogging
1. Sony E 18-135mm f/3.5-5.6
Sony's E-mount APS-C cameras are fantastic for vlogging because they're fast, portable, take great video, and available in a range of pricing points, so there should be something for everyone. The Sony E 18-135mm f/3.5-5.6 lens was created exclusively for these cameras (it will fit full-frame E-mount cameras like the Alpha 7s, but will cause them to automatically introduce a 1.5x crop).
It's a capable all-around lens with a focal range that covers about everything a regular vlogger may require, from wide to mid-telephoto, as well as rapid autofocus and Optical SteadyShot image stabilization. This camera checks a lot of boxes, and its 325g weight makes it suitable for a lightweight mirrorless system, making it ideal for run-and-gun shooting.
If you're looking for a different lens with the same amount, we recommend the Sony E 18-105mm F/4 PZ, which has a little shorter zoom range in exchange for a constant f/4 aperture with Power Zoom. If you anticipate you'll be doing a lot of zooming in on your vlogs, this is a good option.
Best Drone For Vlogging in 2022
2. Olympus M.ZUIKO DIGITAL 12-100mm f/4.0 ED IS Pro
Olympus makes superb lenses – this is simply a fact. The M.ZUIKO DIGITAL 12-100mm f/4.0 ED IS Pro Lens is no exception to Micro Four Thirds users' access to Olympus' wide range of high-quality, razor-sharp optics.
While some zooms lose sharpness as they travel over the range, this optic is razor-sharp from the 12mm wide end to the 100mm telephoto, which greatly expands your photography options. After all, what good is a zoom lens if the highest reaches of its range are practically unusable?
Though it works best with Olympus cameras since you get access to the Dual IS system for better stabilization, any Micro Four Thirds user searching for a vlogging lens will find a lot to like about the M.ZUIKO DIGITAL 12-100mm – if your budget allows it.
3. Panasonic LUMIX G VARIO POWER OIS ASPH 14-140 mm F3.5-5.6
The Panasonic 14-140 mm F3.5-5.6 LUMIX G VARIO POWER OIS ASPH Lens is another Micro Four Thirds lens that impresses with how much you get in such a small package – the lens weighs just 265g and yet manages to cover a focal range from wide to telephoto, as well as including extra functionality like Power OIS (optical image stabilization).
Sharpness is good across the board, and the lens has an internal focusing system that means the lens from moving when focusing, which is very useful for video. It costs a little more than some comparable lenses, but we believe it is well worth the money.
It's also splash and dust-resistant, unlike many other lenses on this list, making it an excellent choice for unpredictable outdoor shooting. This is a truly excellent lens that is sharp from beginning to end.
Best Nikon Cameras For Vlogging
4. Canon EF-M 18-150mm f/3.5-6.3 IS STM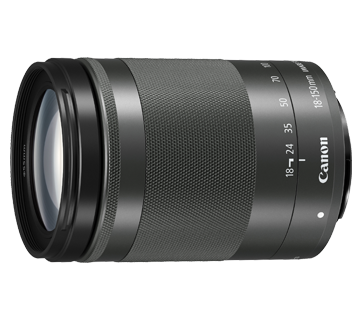 Canon understands that you don't want to have to change lenses. The EF-M 18-150mm f/3.5-6.3 IS STM Lens is designed for users who want to attach a single lens to their EOS M camera till the day they die, covering a wide focal range of 18-150mm and offering a variety of helpful supplementary functions. It's a featherweight at 300g, which is appropriate for the EOS M range, and the four-stop image stabilizer is no slouch.
Negatives? Well, the EOS M system isn't the most interesting collection of cameras to invest in, and if you're looking for mirrorless APS-C, Sony and Fujifilm have more intriguing systems. There's also the fact that as you move closer to the telephoto end, the maximum aperture reduces to a parsimonious f/6.3.
5. Fujinon XF16-55mm F2.8
Fujifilm calls their Fujinon XF16-55mm F2.8 a "prime zoom," implying that it's a zoom lens with enough sharpness to be likened to a prime. This is controversial, but there's no denying that it's a sharp lens across its zoom range, and it works well with Fujifilm's mirrorless cameras' strong X-Trans sensors.
While it doesn't have as much zoom range as the others on this list, it does deliver with a seriously powerful lens that can help you get the most out of a Fujifilm camera – while it doesn't have optical stabilization built-in, it can work in tandem with sophisticated Fujifilm cameras like the X-H1 or new X-T4 to provide stabilization.
You also get the lens with the biggest maximum aperture of the bunch, which remains constant throughout the zoom range. Although it's a little heavy for handheld use and many smaller gimbals, it's the finest option for professional vlogging with a Fujifilm camera.
Guide for Choosing the Best Lenses
Do you use a wide-angle or a medium-angle lens for shooting? Is it better to shoot with a cinema lens or a telephoto lens? What is the most appealing in terms of appearance and functionality? Is there a specific lens for these kinds of shoots? Today, we'll look at the technical aspects of the problem as well as individual preferences.
1. 16mm
Each focal length we'll discuss has a distinct feel and flavor, as well as a distinct affinity with each flavor. But let's start with the 16mm. The 16mm lens is an extra wide-angle lens that might be challenging to use in tight settings. If you're shooting in an unappealing setting, for example, you'll need to adjust the camera position and angle.
While it's one of the most popular lenses for YouTube, it can be a little too wide at times, resulting in an unclear angle that's uncommon for "talk to camera" videos.
People rarely utilize a wide-angle for "talk to cameras" when watching TV or movies since it is less flattering. As a result, whoever is talking will be in close proximity to the lens. If you're doing an interview or anything with a client, 16mm may not be the best choice. Shooting using a somewhat tighter lens, such as a 35mm, might be a better option.
Many of us have a microphone mounted on the top of our cameras, so the camera and microphone are nearby. That, on the other hand, distorts the face. Things appear to be a little crooked and strange. So, while the 16mm is good for vlogging, it's not the most flattering or comfortable lens to use.
It does, however, create an enigmatic effect. If you're filming in a tight space, the wide-angle lens lets you capture more of it. It's quick, dirty, and perfect to capture everything if you're filming in a cool-looking environment.
It's also a good focal length for ensuring you're in the frame, which is another reason it's one of the most popular lenses—you're always in the frame when shooting ultra-wide. As a result, you won't have to keep checking your display because you'll know this area is in the frame. The 16mm reigns dominant in this category.
So, if you're looking for a vlog-style taste that's a little more intimate and obscure, the 16mm is the bit to go. Let's go on to 35mm, which will provide you with a little more of that cinematic comfort we're all used to.
2. 35mm
This is perhaps one of the better focal points for doing the YouTube "talk to camera" format, in my opinion. The reason for this is straightforward. The camera is set at a reasonable distance from the action.
It doesn't have a vicarious feel to it. It also doesn't feel overly cinematic, as you might expect from a 50mm lens. The camera is still a little close in this one. It truly has the same focal length as to if you were talking to someone. You're also gaining a good amount of distance.
If you're conducting YouTube or even an interview, the 35mm will create a more intimate, realistic, and comfortable feel. It's the ideal separation. If you're filming someone, however, this camera is still quite close. So, if you're not comfortable being so close to the camera, you could want to move it a little further away.
This distance, in my opinion, gives the impression that I'm conversing with a person. As a result, even as on-screen talent, it has a certain familiarity to it. As a result, with this focal length, it's likely one of your best for YouTube and instructional. It has a more cinematic bit to it, and you can use your 16-35mm lens to do it if that's a possibility.
And, while it's adaptable, it's not my favorite in terms of appearance. Let's take a lot at my favorite-looking "talk to camera" setup—the 50mm—which is much more cinematic.
Best Mirrorless Camera With Flip Screen
3. 50mm
Personally, if I ever shoot a film that has a "talk to camera" section, I'll use a 50mm lens. It's the most flattering for people on film while still being far enough away so they don't feel like the camera is in their face. Even if you're wearing a lavalier, you'll have to project harder and speak louder because the camera is so far away.
Technically, I like how it handles the background. It compresses the frame just enough to cause some distortion, but it also adds more to the background, making it feel richer.
The wide-angle lens has the problem of revealing almost too much. (I had to perform some clumsy framing to keep you from seeing my dingy basement.) Shooting with a closer lens can also help you capture that small space if you don't have a large background space in your set or the YouTube studio you've always wanted.
Those with the financial means will shoot with larger, wider lenses. This applies to movies as well. I'll use an 85mm or a 50mm if I'm shooting an indie film and the location isn't ideal. The same principle applies to "talk to cameras" in the background. I'll put the 50mm on and it'll look amazing right away, and I won't have to worry about dressing the full background frame.
This is the best lens for cutting costs and getting a stunning, cinematic image. There's no odd distortion, and it's one of the best-looking lenses for catching people's features. Now, just for kicks, let's toss in an 85mm lens and talk about how it feels and looks.
4. 85mm
When using the 85mm, it feels as if you have to yell to be heard. It's as if the camera is on the other side of the room, which makes it one of the worst focal lengths for YouTube and "talk to camera" videos.
For starters, the camera is situated at a great distance from the subject. Two, you'll need a really large space to film in. Three, it feels the impression that you're shooting using a telephoto lens.
The 85mm and telephoto lenses are ideal for recording behind-the-scenes moments and nature documentaries because they produce a sharp, stunning image. However, because of the distance, it does not work well for "talk to camera" projects, creating an unpleasant sensation between the person behind the camera and the viewer.
The 85mm is designed to capture the finer aspects of a scene, such as people's hands moving, facial expressions, and so on. This type of focal length, on the other hand, is cumbersome for making YouTube videos or vlogs.